Read Time:
2 Minute, 44 Second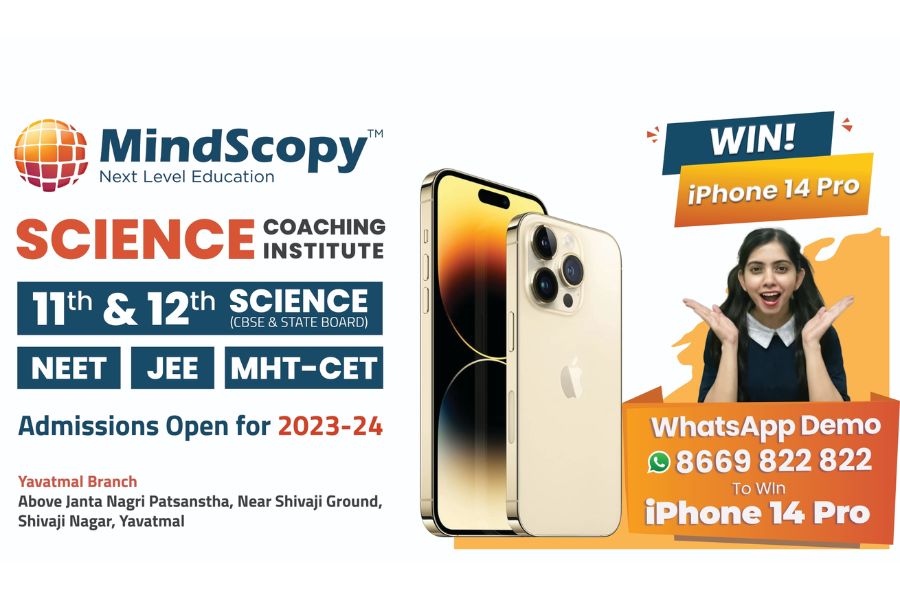 MindScopy, India's leading coaching institute for science students, unveils the highest quality science coaching, skill development training, technical consultation, and offline or online educational services for next-level education. MindScopy coaching institution specializes in science coaching and skill development training for futuristic doctors and engineers preparing for science board examinations, NEET, JEE, and MHT-CET.
With every tuition, training workshop, and technical consultancy, MindScopy strives to exceed the expectations of its students and parents with competitive pricing, the highest quality science coaching, and special custom courses to improve the memory power of the students. Over the years, the institution has garnered immense acclaim in Nagpur for its top-notch training and educational services.
MindScopy, India's leading science coaching institute, is committed to especially customized courses and career assistance. The institution provides coaching for 11th and 12th science for CBSE and State Boards, NEET, JEE, and MHT-CET, specially customized courses for improving memory power for science students, books from MindScopy, educational trip to science and engineering colleges, MindScopy android app, health insurance to all MindScopy students, college bag, scholarships, career assistance for higher education, health check-up camps for students, special lectures on motivation, student diet plan, and more.
With a mission to deliver the highest quality coaching, online and offline educational services, MindScopy excels as India's leading educational services provider. To ensure its students remain at the top of the industry globally, the science coaching institution is committed to empowering its students with the best distance learning coaching for competitive examinations, competitions, career consulting services, technical consulting services, computer and soft skills, and skill development training.
"MindScopy sincerely hopes to prepare science students to become future doctors and engineers. Founder of doctors and engineers themselves, MindScopy's vision is to expand our institutions' presence across the country by transforming the average science students into acclaimed doctors and engineers with our expertise. Each lecture or training workshop we deliver is customized according to the students' caliber to unlock their true potential. We provide early bird discounts, easy payment options, and awards and prizes for the toppers of our institution," says the Founder of India's number one coaching institution for next-level education, Dr. Sandeep Wankhede.
MindScopy is a professional educational institution based in Nagpur, India. The institution founded by Dr. Sandeep Wankhede is the product of Dr. Wankhede Academy (OPC) Private Limited. The institution offers teaching, skill development training, online or offline educational services, tuition, boarding schools, classroom or distance learning coaching for competitive examinations, training workshops, competitions, career consultants services, computer and soft skills, technical consultants services, and more.
MindScopy specializes in coaching and skill development training for science students preparing for 11th and 12th standard CBSE and State Boards and competitive examinations such as NEET, JEE, and MHT-CET. Students interested in availing of their ticket to enter the world of doctors and engineers can grab a flat 40 percent discount on admissions right now. No criteria for the scholarship test need to be fulfilled to avail of this admission discount.
If you have any objection to this press release content, kindly contact pr.error.rectification[at]gmail.com to notify us. We will respond and rectify the situation in the next 24 hours.
The post At MindScopy, the Focus Is On the Highest Quality Science Coaching and Skill Development Training appeared first on Republic News Today.